Getting my money's worth
I've been watching HBO & Showtime series like a hawk lately. And thank god, because I pay an arm & a leg for cable/Internet every month. I don't dare even tell my mother how much for fear of hearing, "and you always say how broke you are?! Well, no wonder!!"
ANYWAAAY...Here's my favorite shows (some I've already mentioned):
HBO
Entourage
Follows the life and adventures of a Hollywood movie star, Vincent Chase, and his friends. Well, Kevin Dillon plays his brother, but he's part of the gang too (and where the hell did Kevin Dillon appear from? I haven't seen him since the Reagan administration). I love Debi Mazar, who plays Shauna the publicist, so that's part of the thrill. Plus, I think Jeremy Piven is funny as hell - and cute. He plays Ari, Vince's asshole agent/Hollywood executive trash.
Debi Mazar is cool - she looks like Lauren Bacall in this picture...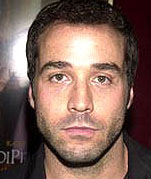 Jeremy Piven
*******************************
The Comeback
Valerie Cherish (Lisa Kudrow) is a former TV Guide cover girl and one-time People's Choice winner (for a show called I'm It!), Valerie has spent a decade out of the spotlight. Now 40ish, she is desperate to re-launch her career-so desperate that she's agreed to let a reality show chronicle her every move as she attempts to land a part on a "sexy" new network sitcom.
Valerie with her hot co-star (on the show), Chris
*******************************************
SHOWTIME
I've already talked about this show with Mary-Louis Parker. You need to get Showtime. I love it.
Also of note, Queer as Folk recently ended, which I already talked about too!
For those of you who don't get HBO or Showtime, watch "The D-List," Kathy Griffin's reality show on BRAVO. She a funny lady.