Triton High School - Class of 1996 Reunion
Yep, I'm still alive....Nothing new. Work is obviously SUPER busy, which is good. I think I'll take some time to read through your blogs this weekend since I don't have anything going on. Haven't been dating anyone since Tony last summer...just hanging out with friends as usual. Mostly Jessica, who lives at the same apartment complex as friend Jeff...we just celebrated her 29th birthday last night at The Independent in Uptown Minneapolis....
Anyway - my class reunion happened during the last weekend of September. Here's a recap and a couple pictures (finally)!
Triton High School's Class of 1996 reunited in my hometown, Dodge Center, MN, starting that Friday.
We were in the school's Homecoming parade - about 10 of us showed up for that, which was actually more than I expected, given the parade happens Friday afternoon. Our old teachers and others who remember us, etc., were like "OMG - you guys have a float!" And things like, "Hey!!" were being shouted as we drove by -- we just decorated a pick up truck with signs and balloons/streamers and we all rode in the back. That was fun - no pictures of it, though. I stupidly forgot my camera...
The best of that had to be when we met at the high school parking lot to decorate. Tina, Jill, Jenni and I sneaked a cigarette and a beer in Tina's car -- losers, I know, but we felt like we were in high school again! It was kind of funny - thank god nobody saw us. I would be mortified to "get in trouble" at my high school at the age of 28...DUH.
After the parade, a few of us went to Dodge Center's local watering hole, Harold's Club, for a couple beers before we headed to the Homecoming game, which Triton won. We stayed until half-time and went back to Harold's. There were only about 10 of us there that night too, but it wasn't part of the official schedule or anything.
The next day a few of us met at the high school to take a tour of it....it's all been vastly remodeled and added on to since we graduated. We didn't really even recognize anything. Our old "commons," which is where we ate lunch, is now the choir room. Our locker area is gone. The gym looked TINY compared to how I remember it. Very strange feeling to be back in there. We were like, "umm....where are we??" Or, "...what was this area when we were here...??" The senior classes now take a group picture and they hang them in the office. The seniors now paint a section of a wall in the hallways now too. I wish they did that stuff when we were there. Looks like it all started with their class of 2000. We also noticed that a few of our old teachers are still plugging away at Triton. Most of them have since retired or left.
That afternoon, we met in the park for a class picnic. About 20-30 classmates attended that with families, which is what I expected since we were only a class of 100. As expected, people were broken off into groups they would've talked to in high school. Kind of annoying. Nobody was really helping me keep the shy people attended to. Also annoying. Some were bitching about the "booklet" I put together - basically a "where are we now" thing that people needed to fill out and send back to me. I finally just yelled, "Everyone can just fuck off - if you wanted it done differently, do it yourself!!" For the most part, though, it was a decent time. At least the weather was good. We took a picture - someone suggested taking it against the wall of the bathroom building so that there would be a plain background. Instead it just looks like we're standing next to a park bathroom....See for yourself: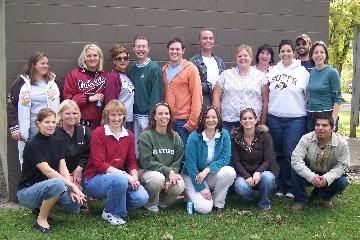 I'm in the back - Not everyone who showed up was there for the picture
It got more fun as we who didn't bring kids got a good little buzz going off the 4 cases of beer consumed! My friend Jeff drove down from Minneapolis and got there for this - my friends liked him.
That evening we met at Dodge Country Club for the "real" reunion event. No dinner or anything, just cocktails and socializing. I can imagine how many people would've complained if we had a dinner since that would've increased the cover charge. I don't think $20 is bad ($15 for single) - especially if you also went to the class picnic, where food was served. I mean, don't people know that it costs money to have a reunion and rent a place to have it?!?
Anyway - this was really fun. I'd say about 45-50 classmates attended this at some point during the evening. We also invited the other Triton classes of the 1990s to attend if they wanted to (there was an ad in the paper announcing it). In total, more than 100 people were there, I'd say. It was fun! We got a keg and charged another $10 to drink out of that...which didn't go over well, but it cost about $150 since we had to buy it from the country club! People "mixed" pretty well at this and everyone paid me this time (not everyone did at our five-year reunion), so it went well!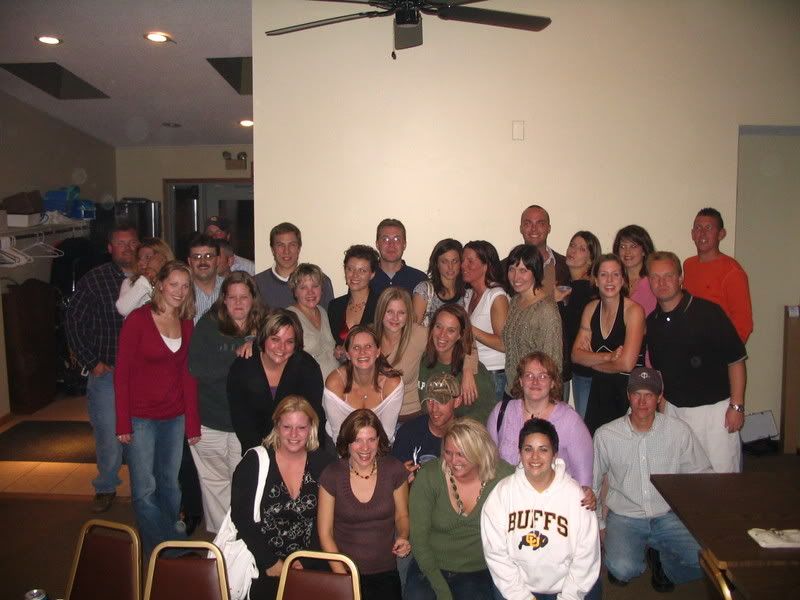 Again, not everyone who was there made it in the picture, but most of us did. I'm in the back row - the obnoxiously tall one! Crystal, front row in white hoodie, traveled the furthest - she now lives in Boulder, CO.
Jeff, a few of the others and I finished the night at an after-bar hosted by a member of the class of 1989!!
All-in-all, a good reunion.
I will, however, NOT be planning the 15-year. People are so weird about reunions. One disappointing thing was that a good number of our "A-List" classmates didn't attend. Since they must have LOVED high school (being really active in activities, lots of friends, etc.), you'd think they would want to go to the reunions. Oh well...those of us who did go had a good time. I did, anyway!
Nothing crazy happened. Well, that I heard about...
In other Triton news, their football team played in Minneapolis at the Metrodome last night and won, which means they will play in the state championship game next week, also at the Metrodome! We were there both my junior and senior years (1994 and 1995). Our team won state in 1994, but lost in 1995....those games were pretty fun. My brother, in fact, still holds the state record for most touchdowns in a championship game - I think that's the record, anyway! I, of course, didn't play. And no, I wasn't a cheerleader, smart ass!
Triton also won state in 2000. Clearly, a big football school. We used to joke that the football team got new uniforms every year, but we didn't have new books in the library since 1985...typical of a small town, I guess!