Meg be here
Meg
is here from NYC this weekend. Should be a fun time.
She flew in to Minneapolis this morning and thankfully another college friend of hers was able to pick her up and hang out until I'm done with work. We'll probably grab some din-din downtown and maybe go to happy hour somewhere.
Tonight, we shall see the illustrious '80s cover band, "Hair Ball," at some dump in a dump of a suburb called Hopkins. I saw them in Winona once and they really are pretty good/fun. They do all '80s hair band music and dress up like the groups they are covering, like Motley Crue, GNR, etc. Too bad
ZeppGoddess
isn't here. Another time!
Angelo and Bobby are apparently going tonight too, but I don't think they're really fans of the bar scene, so we'll see if that happens or if they make it very long. God only knows where the night will take us.
Tomorrow night, Meg and I are bringing Angelo and Bobby to see the drag show at the Gay '90s. They've never gone yet! I think they'll be surprised by Minneapolis drag queens (since they're from NY). I hope they have fun. God, please let Roxie Marquee do some good Madonna...and I hope someone does Shirley Bassey. If so, Bobby will certainly pass out in shear bliss.
Meg wants to go to Beer Bust/Showtunes on Sunday afternoon/evening. I guess this is her uber-gay weekend! I'm thinking Meg is trying to avoid the straight MN boys. Either that or she is a bit transfixed with the gay MN boys. Who knows. I'm just glad she doesn't want to see the shower contest at The Saloon.
BACKSTORY: I've known Meg since I was a senior in college. She was a wee lil' Freshman. She was the front desk girl at the campus office we worked at and was quite the freshman in every sense of the word. We had to send her home once due to her attire -- or lack thereof. I also like to tease her about asking the other employees and me (we were all seniors and 21-22 yrs old) if we've ever been to the bars in Winona. Anyway, we kept in touch while she was still in college and now, a native or rural Wisconsin, she's a career girl braving the Big Apple - she's an associate editor for a major publishing house. And to think I knew her when she was 18 and boy crazy...she videotaped my ass at a party once, so that tells you how boy crazy she was. God help her if that tape is still in existence somewhere.
Anyway, it's not quite 4:00 and I'm already fidgety for happy hour. Clock, hurry up!! I need to relive some college glory!!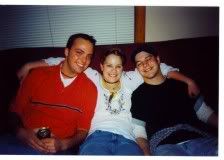 This is Meg and me (with a guy named Clay) at a party in college - she and Clay got well-acquainted that night, I believe! Shame, shame...
ALSO - need to give a shout-out to the girls from my hometown of
Dodge Center
, some of whom recently discovered my blog, I believe!!