Well, I'm no Rocket Scientist, but...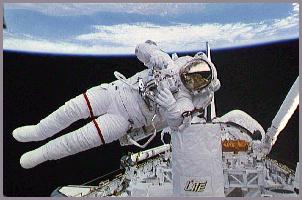 Location:
Somewhere deep in space
Time:
Wednesday morning, August 3, 2005
Who:
U.S. Astronauts aboard the Space Shuttle Discovery
What:
Getting rid of some material that's sticking out of the underbelly of the shuttle
How:
(from Reuters news)
using a hacksaw put together in orbit with a deliberately bent blade, plastic ties, Velcro and the handyman's favorite all-purpose fix-it: duct tape.
That's right, folks. You read it correctly. They are fixing a fucking *space shuttle* using a bent plastic fork, velcro from my old Kangaroo shoes and goddamn DUCT TAPE.
NASA is clearly either consulting with Jeff Foxworthy or MacGyver and I, for one, am proud.
Anyway, I wish the astronauts luck and a safe return to Earth, where they can take 7th grade shop again...