Listen here, Little Mister...
Remember these books?? I *loved* them so much when I was a tad.
They were the Mr. Men and Little Miss books.
Awesome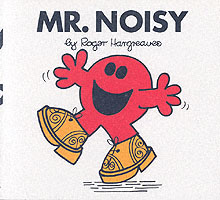 Hey, hey, hey!! I'm noisy!!
Nice shoes and jazz hands.
I wonder if he's ever going to write about the first gay one. He should call it
Mr. Sister
. I would certainly buy that!