Happy Pride!
It's PRIDE weekend in the Twin Cities of Minneapolis and St. Paul. Happy Pride everyone!!
Actually, I have to concur with Brechi and admit that I'm not proud to be gay. I'm just not ashamed. You see, I don't feel like I have anything to be proud about because it's not something I worked for or achieved. I was born gay, so how can I be proud of it? Much the same, I was born a European American, so I'm not proud to be English, French and Scandanavian (Swedish, Norwegian and Fin). I'm not ashamed of it, though.
I've expressed this sentiment on several occassions and probably angered a few. I do have to say, though, that I *am* proud of, and grateful to, the queers who paved the way and came out when it wasn't "hip," or even remotely accepted by our heterosexual friends. Thanks to those guys and gals at Stonewall in 1969!
A lot has even changed since I started to come out in 1998. My friend Jill had the hots for me and was always all over me at parties & such. It turned out that her older brother is gay and she loves him more than her luggage. So, she was the first one I came out to. Then I started telling more & more friends who didn't think it was a big deal. That fall, Will & Grace came on T.V. and I actually think that helped society a lot. Soon after, I met my first gay guy online (a closted frat boy at my college) and had the hots for him -- and vice-versa, except we were too scared/shy to act on it. In December of that year, I met my first gay friend, Mike, who had come to WSU from Chicago and had already been doing the Boys' Town scene there for a few years. (You gay boys should visit Chicago's Boys' Town -- it's much fun).
In January 1999, I hooked up w/ a guy for the first time. In March, for the first time, I felt how it feels to have a "relationship." He was a frat boy from MN who was going to college in Ohio. I was all giddy over him - especially when he came home for breaks. I had hickeys on my neck *gag* and my roommates asked him if he wanted them to make him a sandwich if he was that hungry (Duh)! He even came home with me and my Mom loved him -- we introduced him as my friend. But, distance was too much and he was going to Scotland for the summer, so we remain friends.
In April, I broke the ol' news to my Mother. She cried and suggested therapy. We still rarely talk about it. She's 65, and really very sweet and a great Mom, but just a member of the old school. She'll come around eventually. She has met two of my boyfriends (and the frat boy I already mentioned) and liked them -- she even told one of them that he *would* be coming to her house for Christmas. I know she wants me to be happy and we have talked about the fact that she wants me to find someone...so, that's a start.
In May of 1999, I started my first (and only) serious relationship with Chris. We were together more than two years and I haven't met anyone to "replace" him since we broke up in the summer of 2001. *Sigh*
Oh well -- that's my story. I said it and I meant it!!
Anyway -- Happy Pride!!
I'm hanging out with Jeff, Danny and Shawna. Don't know what we're doing tonight, but tomorrow is cocktail hour at The Hamptons, then off to Loring Park for beer garden. Then out to the clubs.
Sunday is back to the beer garden and to the Saloon Block Party. We might go to the parade in the morning, but who knows....just a bunch of floats with gay stereotypes. I would be interested to see if the gay Minneapolis cops and firemen have a float like they do in Chicago. I went on a few dates with a Chicago cop. He was a cocky bastard, but hey - Chicago cop. Need I say more?!
Oh, and I'm getting some jobs lined up....
A photo tour:
Me, Scott (in hat), Tara, Jess and Jill for Tara's 21st in Dec. 1998. Jess and Jill were my roommates who asked Ohio frat boy if he wanted a sandwich. Scott is my teenage obsession. We went to high school and college together.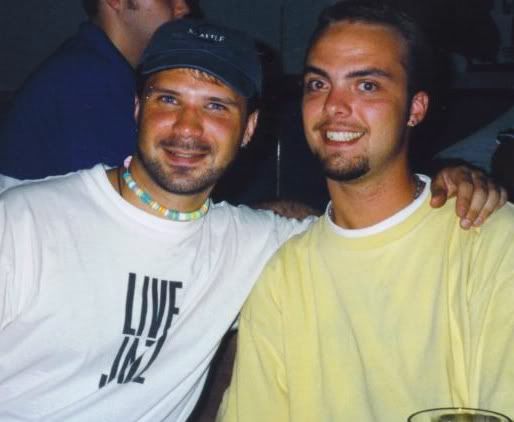 This is my first real boyfriend, Chris, and me on his birthday in July 1999. He and his friends wore candy necklaces on their birthday and had to eat a candy whenever they did a shot. He had lavendar contacts...we're still friends.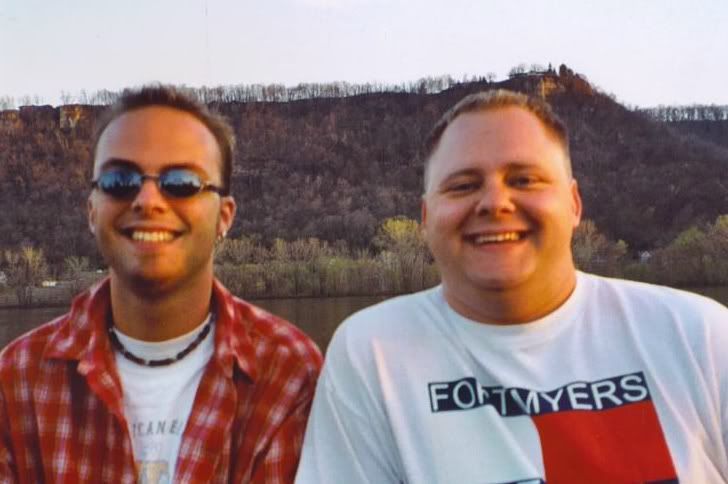 This is my first gay friend, Mike, and me in Winona - May 2003. We don't talk as much as we used to anymore...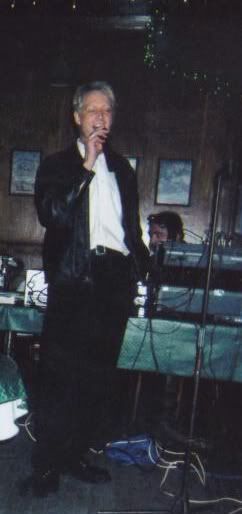 This is one of my new Minneapolis friends, Danny, singing karaoke at some dive bar we sometimes go to. He is crazy and was told once, "you look like Ann Heche..." and also, "you look like Ellen DeGeneres." He makes us laugh. I don't have any pictures of Jeff yet...