Lynda Carter is Nice - and a Wonder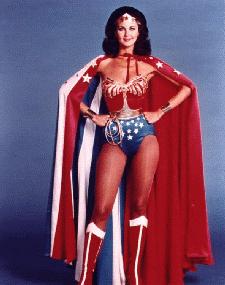 She's a wondah, Wonder Woman!
I guess it's true that Liftetime really is television for women and gay men. I'm a sucker for those Intimate Portraits. I'd probably even be totally engrossed by the Mimi Rogers story and she completely bugs the shit out of me. I don't know why, she just does. Anyway, I watched the Lynda Carter story this evening. We should all know by now that I've loved her for more than 20 years due to her Wonder Woman portrayal.
Turns out she was a singer in a traveling band during her teen years. She was rejected by an elite club in high school. She was Miss Arizona and Miss USA in the early '70s. Wonder Woman was her first TV role. She beat out the likes of Farrah Fawcett, Kate Jackson and Jaclyn Smith. She was married to her manager from 1977-1981. The show ran from late 1975-1979 (or '80). I was obsessed with the show from 1982-1984. She was the Mabelline girl in the early '80s. She married a prominent Washington, D.C., lawyer in 1985. She did some TV movies and music specials. She had a son, Jamie, in 1988 and a daughter, Jessica, in 1990. She is very involved with her family and lobbying/fundraising for women's health issues. I think she seems like a really nice lady and a good mom. I like her. She's 54 now and still looks fabulous.
Go, Lynda Carter!!
With her husband, Robert Altman