Picture time! Kiddo78 in 1995 and 2000
Well, I'm totally slacking at work when I should be submitting candidates to my client, but scanning & posting old pictures is just so much more fun since I got my scanner to work again!
Yesterday's post was about where I was and what I was doing in 1980, 1985, 1990, 1995 and 2000. My childhood pictures are all at my Mom's house, but I do have my own high school and college albums on premesis, so here's a look at Kiddo in 1995 (when I was 17) and 2000 (when I was 22):
1995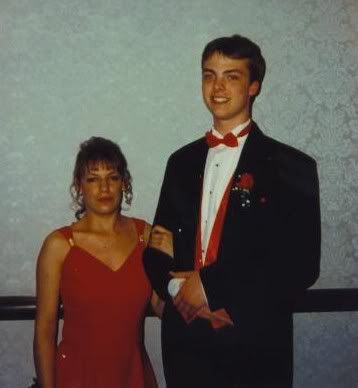 This was my junior prom date, Natalie, and I at the Radisson in Rochester, MN - May 1995. Her name is Natalie. My Mom called us Mutt & Jeff (short & tall). Yeah, no kidding...Nice hair I've got. Natalie is now the married mother of two...or three??
This is us at the After-Prom. I think the theme was Cruise Ship. Or probably Love Boat since our parents did all the planning and decorating. It was an effort to keep us from boozing it up, so the businesses in town & in Rochester gave away a bunch of stuff as prizes, like dorm TVs, microwaves, etc., even a used car! I bet I was wearing white socks with brown chukka boots with those nice cream short shorts. What the hell...??
This is at my brother and cousin's h.s. graduation party in June 1995. I'm far right, then it's cousin Jenny (my age), cousin Tate (18) and brother Judge (18). Notice my plaid shirt - like
Brechi
, I had lots of plaid back then. I guess we wore our shorts a little short in 1995? I left for Boys' State later that evening. Jenny is married, is a nurse and just had a baby a week ago. Tate is in medical school. Judge is here in Mpls.
2000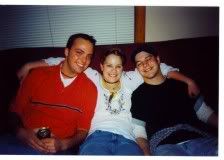 This is at a "March Birthdays" party during my senior year in college. In between is
Meg
(Meghan K.S.), who was just a lowly freshman at the time. She worked in the same office as I did and asked a lot of funny questions and videotaped my ass at parties. Now she's a fabulous NYC career woman/grad student. For instance, one day at work, she asked the other seniors and I if we'd ever been to Bullseye...it was one of the most popular college bars, so we just looked at her like, "Huh....??? Get back to work." Anyway, next to her is Clay, I think. I was getting a little chunky by the end of senior year. I saved the freshmen 15 for senior year, I guess. I still have that shirt somewhere.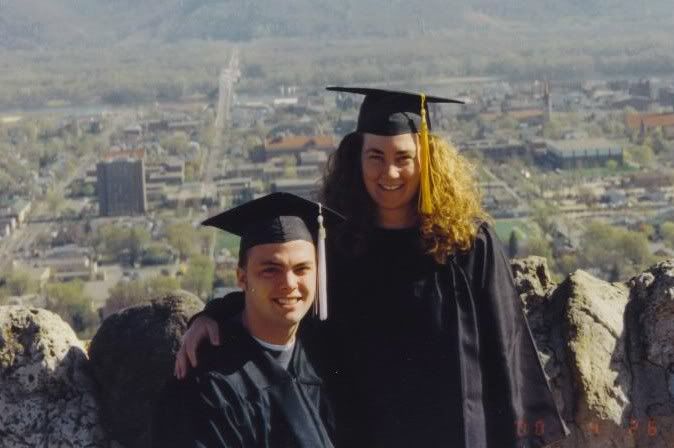 One of my junior year roommates, Jill, and I had our grad party together, so took pictures for the invitation. This is one of them -- at Garvin Heights, overlooking Winona and campus. She had so much hair! She's married now with a lil' baby and lives in the Twin Cities as well.
Same deal. Nice fisherman sandals we ALL wore. I got my first pair in 1997, I think. Those aren't my originals.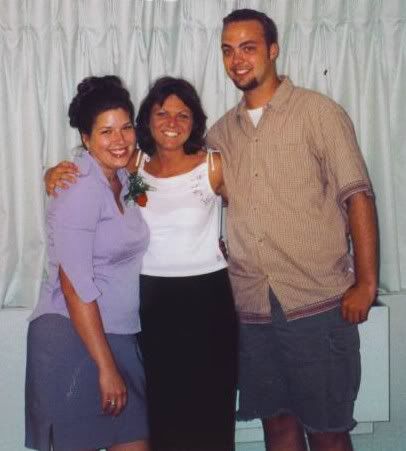 This me with good college friends Jess & Tara. We were at the wedding of another friend. We skipped out on the hoighty-toighty dinner (wealthy heiress bride) and went to Chili's for several cocktails instead, while their boyfriends went to some sports bar and got hammered. We did make it to the dance - I didn't even change clothes (!!), and Tara's boyfriend puked outside, right in front of a bus of middle school softball girls. Speaking of puke: like my goatee?! Ughh...I had that from 1999-2002, I think. Well, in '02, I had more of a Ty Pennington type thing, but same difference. Jess is now engaged to same boyfriend (I introduced them in 1998) and lives in Rochester -- Tara is in suburban Chicago doing the work thing.
That's all for now, kids. I have a feeling there will be more to come!
**DISCLAIMER**
If you don't want your picture posted on here, please let me know and I'll remove right away!!