Here's to You, Mrs. Robinson - Anne Bancroft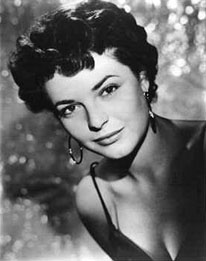 Anne Bancroft ** 1931-2005
Academy Award Winning Actress Anne Bancroft died of cancer on June 6. She was 73. She won the award for portraying Helen Keller's teacher in 1962's
The Miracle Worker
. She was probably most well known for seducing the much younger Dustin Hoffman in 1967's
The Graduate
. Shw was also a well known Broadway actress.
I've seen her in
The Miracle Worker
, with Patty Duke as Helen. It was awesome when Helen would eat with her hands, have a tantrum and start whipping food at people. I'm *so* going to do that if I ever get to be a crotchety old man. Anyway, then the teacher (Annie Sullivan), who wore some pretty cool shades throughout the film, forced her to use a fork.
Nice teacher
The Graduate
is a movie I've seen several times. It's really quite an odd movie. And if you haven't seen it already, be prepared for an onslaught of Simon & Garfunkel, whom I like, but wanted to smash their guitars by the end of this picture. Anne does play her Desperate Housewife role quite well. In fact, she's a bitch, which, of course, results in my immediate approval.
Not to be messed with
The classic still of her leg
Still discontent
I always remember her from
Home for the Holidays
, when she played Holly Hunter's mother. She was good in that too -- sitting in a closet smoking a cigarette on Thanksgiving with her wig all crooked. Good movie. Good dysfunctional family stuff.
With husband Mel Brooks
Here's to Anne Bancroft.