Brandon is annoying
My interest in
Beverly Hills 90210
has resurfaced after many years. I remember the pilot episode airing in the fall of 1990, when I was in 7th grade and the zany 90210 gang was in 10th grade. Brandon and Brenda had just moved there from, where else, but Minneapolis. Kelly didn't want this geek to sit next to her in chemistry(?) class, so hurried Brenda over to sit down and they became instant friends and that's how Brenda & Brandon "got in" to the A-group.
Watching it, I'm thinking "Dylan so does not look like he's a high school student...he has a receding hairline!" I think he was in his 30s already. It's only a T.V. show, but it is so cheesy. And Brandon?? How did he get so wise beyond his years?? He annoys me. I just want to pull him out of that yellow '65 Mustang and pour vodka down his throat and blow my cigarette in his face and repeatedly drop the F-bomb. He needs some serious chemical inducement. Emily Valentine should have tried to be a worse influence on him...
Did you know that Matthew Perry guest starred as a rich athletic senior who wanted to kill his dad?? Far cry from Chandler Bing.
And what was up with that Scott kid shooting himself? I forgot all about that until the episode aired on Monday.
Donna -- don't even get me started...She is quite obviously the producer's daughter because her acting is about as bad as a local commercial.
BUT -- I *am* the one who watches it on the Soap Network every day, so what does that say about me?? Oh well.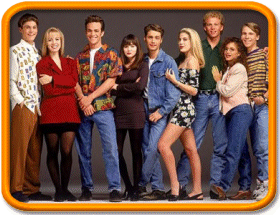 The gang's all here